Why You Will Love Rise Prebiotic
Probiotics optimize the gut environment, while prebiotics selectively nourish the beneficial bacteria. Prebiotics work best when taken consistently with probiotics. The most significant impact can be seen at 6 months; however, many continue to stay on prebiotics for all the added benefits.

At Ombre, we believe that good health begins with a healthy gut. Our Rise prebiotic supplement is made with organic and all-natural ingredients that are scientifically proven to improve gut health. Unlike other supplements in the market, our prebiotic powder is gluten-free, non-GMO, and vegan-friendly without other harsh additives.

*These statements have not been evaluated by the Food and Drug Administration. This product is not intended to diagnose, treat, cure, or prevent any disease.
Absorbs quickly for fast constipation, bloating, and gas relief to improve digestion*

Boosts beneficial bacteria for a healthy microbiome*

Enhances butyrate production to restore the gut barrier*

Promotes healthy weight management*

Aids in bowel movement regularity*

Targets pathogens that can cause imbalances*

Supports cardiovascular and metabolic health*

Aids with a healthy immune system and overall health*
16 oz. plant-based tub / 30 (8.5 oz) servings

Targeted dietary fibers for enhanced bioavailability

Vegan and low-Fodmap friendly

BPA-free, fully-recyclable scoop

Shelf-stable for three years in cool, dry storage
Calories: 10

Total Carbohydrate: 6g

Dietary Fiber: 4g

No Added Sugar
Ombre Prebiotics Are Free-From:
Only Gut-Enhancing Ingredients: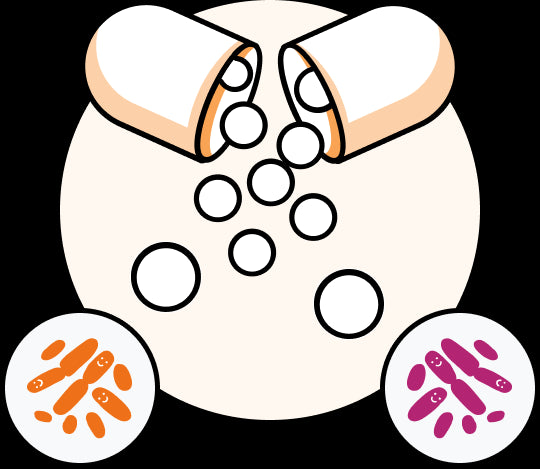 Other Ingredients:

Ombre® Rise proprietary blend

Sunfiber®

PreticX® Prebiotic Complex (providing 2,000 mg Xylooligosaccharides)

Inavea™ Baobab Acacia
Certifications
All Ombre products are formulated by strictly adhering to industry standards and using the highest quality ingredients.
Frequently Asked Questions
Can't find what you need? Reach out to our team at support@ombrelab.com
Prebiotics are a type of dietary fiber that serve as food for the beneficial bacteria in our gut microbiome.
Prebiotics are food for the beneficial bacteria in our gut, while probiotics are live bacteria that provide health benefits when consumed in adequate amounts.
Garlic, onions, bananas, asparagus, oats, and apples are some natural sources of prebiotics.
Prebiotics are safe for most people, but they may cause mild digestive discomfort, especially when consumed in high doses.
There has been some research to suggest that prebiotics may help reduce appetite and promote feelings of fullness. This can lead to weight loss over time.
The benefits of prebiotics may vary from person to person, but they typically start to appear within a few weeks to the first couple of months of regular consumption.